By Leslie Alwiel
12/31/18  UPDATE: New Now and Then Photos:
Here are three sets of "now and then" photos takes by Don Teuton that show just how much work has been done since the clean up and replanting of trees began.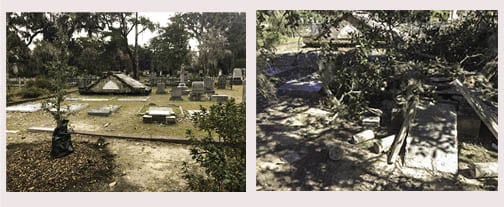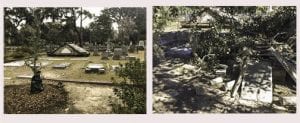 We often get asked how has Bonaventure Cemetery recovered since the hurricane?
As you may recall, Savannah itself took a powerful hit from Hurricane Matthew back in October 2016 and the cemetery was closed for almost a month while the cemetery staff performed a daunting amount of work to stabilize the site to ensure public safety:
There were over 700 hanging limbs that had to be removed from the cemetery;
Over 1300 cubic yards of debris were removed from just two sections of the historic district's eight sections;
Over 87 lots in the cemetery suffered damage:
And the cedars populating the cemetery suffered the greatest damage. Some with trunks of 30″ diameter or greater were snapped like toothpicks by the winds.
Like all things impacted by nature, recovery is a slow process.  Bonaventure Historical Society voted to spend almost $7,000.00 to replace some of the trees lost in Hurricane Mathew.
Don Teuton, BHS Vice Chairman reported "All over the cemetery are these white flags with letters on them. Where a Live Oak fell, it's being replaced by another Live Oak. Where a Cedar fell, it's being replaced by another Cedar."  This will cover the cost of replacing more than 50 live oaks and 20 or so cedars.
Thank-you to all of you who have donated to the Bonaventure Historical Society or bought one of our apps.  Your contributions make this all possible.
Here is a list of blogs on Hurricane Matthew and Bonaventure Cemetery: