By Lee Maltenfort, Chairman
Weddings, and the planning for them, have taken on a new life of their own.  The number of couples going to their local religious edifice for the nuptial rites is diminishing.  In its place are a variety of options:  Destination Weddings, Theme Weddings, Funded by GoFundMe Weddings, and there are probably many others that someone who eloped more than half-century ago is aware of.
As the search for new and novel sites continues to grow, more and more couples are beginning to appreciate the quiet majesty of a well-kept cemetery as the site for their special day.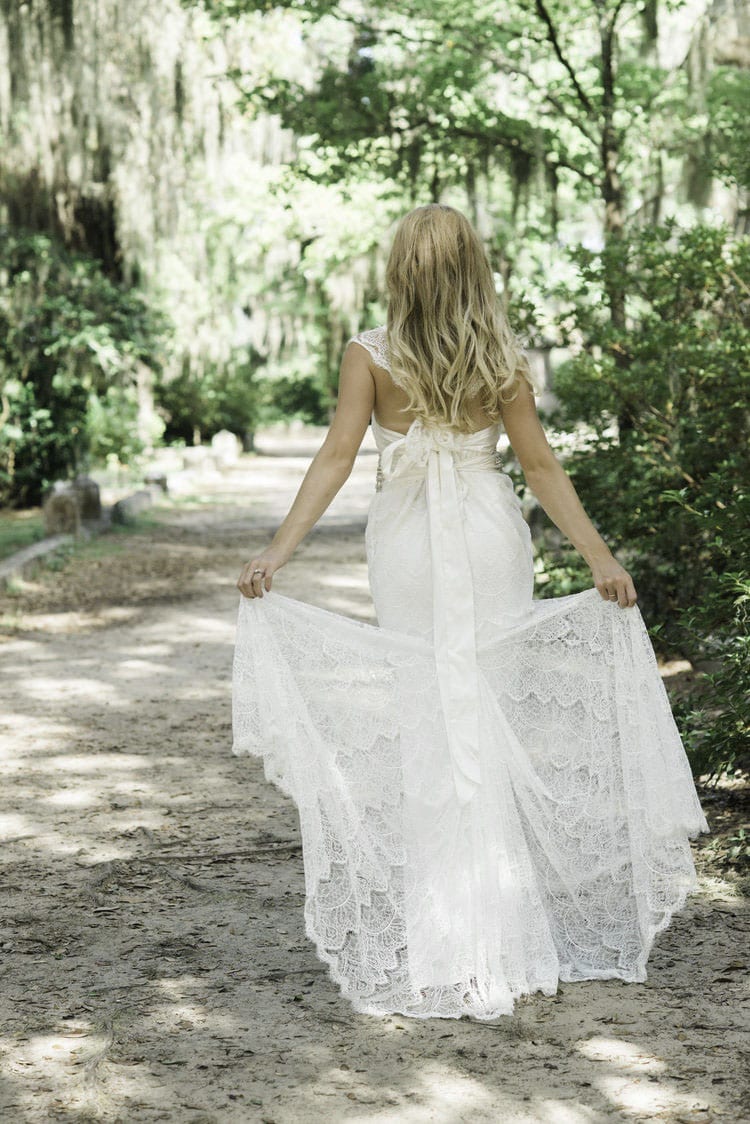 Flowers + Gown by Ivory + Beau // Harper Gown by Anna Campbell // Photography by Callie Beale Photography // Model, hair and makeup by Michelle Royal // Cake by Wicked Cakes of Savannah
Bonaventure Cemetery has become a wedding destination within a major destination city and, as a result, the number of weddings has been increasing over the years.  And, if the couple-to-be follows a few simple directions, a wedding in Bonaventure can be a memorable experience.
It's important to remember that Bonaventure Cemetery is a city owned-and-operated property and, as such, requires certain steps be taken to insure getting hitched there is hitch-free.
First and foremost a wedding, like any other event in Bonaventure, must be registered with the Department of Cemeteries.  It's a simple but important process.
All it takes is a phone call (912) 651-6843 to Amanda, the department's Event Coordinator, to start the wheels in motion.  Simply provide the day, date and time for the ceremony and the number of people expected to attend.
There is no limit to the number of attendees.  Amanda has registered ceremonies with from 3 to over 150 within the past year alone.  The fee charged by the City of Savannah for any event on city property is based on the number of people expected to be present.
The Event Coordinator will go over the basic ground rules that apply to any non-funeral event in the cemetery, such as having all decorations, equipment, seating and such approved in advance. Photography is allowed as long as it is done within the registration time for the event, but those images cannot be published for profit in public media without permission from the cemetery.
The wedding has to be held in a public space, such as the Walz Garden, the Bonaventure Landing or in Greenwich Park.  No alcohol or music is permitted on cemetery before, during or after the event but there are no restrictions on celebrating the nuptials once the party has left Bonaventure.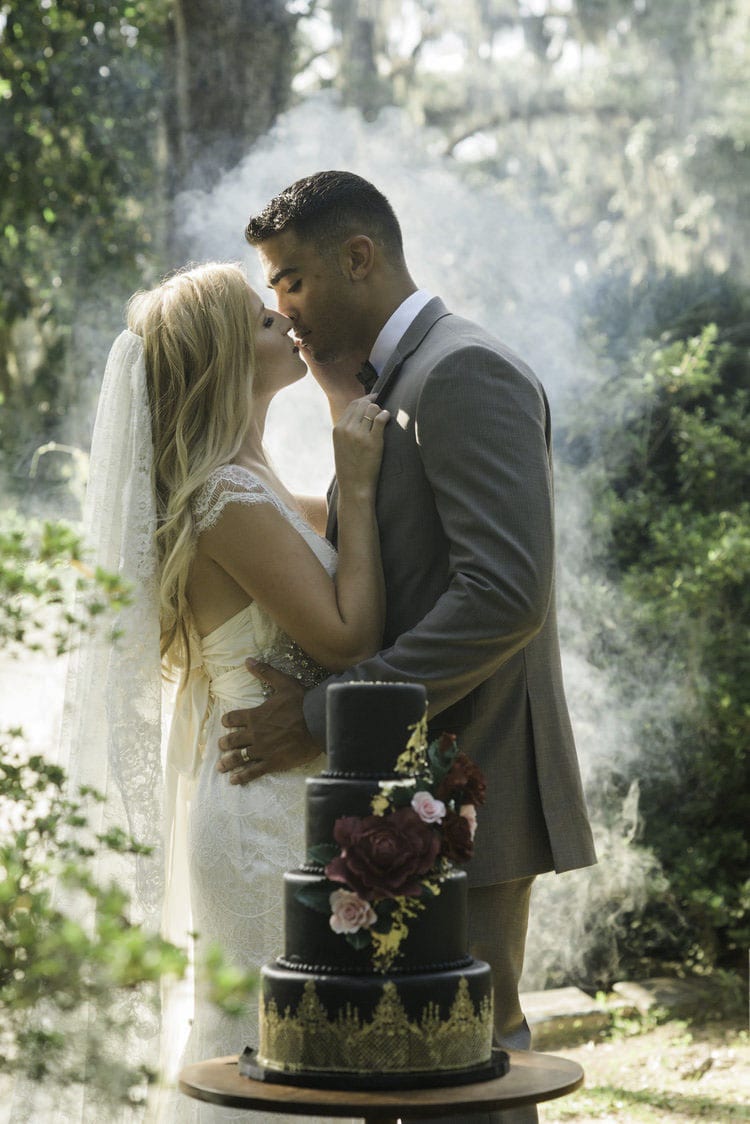 Flowers + Gown by Ivory + Beau // Harper Gown by Anna Campbell // Photography by Callie Beale Photography // Model, hair and makeup by Michelle Royal // Cake by Wicked Cakes of Savannah
Some couples have also opted to have their engagement photos taken at Bonaventure.  There are many areas where greenery makes a great backdrop and also hides monuments from the camera's lens.  These too should be registered in advance with the Event Coordinator.
And I do have to say that at least one wedding in recent years arranged for a guided tour by a Bonaventure Historical Guide as a thank-you to those who participated in their ceremony.  That can be arranged by going to the www.bonaventurehistorical.org site's tour page.  Click on "Book Group Tours" and complete the form.
Click here http://bit.ly/2bGZpjZ to see more delightful wedding photos from our friends at Ivory and Beau.
How to learn more about Bonaventure
Additional information on how you can help with our preservation efforts or join our fair society can be found on our website listed below. You can also find information regarding tours and other topics at our site or across our social media presence. So give us a follow!
Details on our Mobile Guide can be found
here
.
Website: Bonaventure Historical Society 
Twitter: BonaventureHS
Facebook: Bonaventure Historical Society, Inc.
Instagram: Bonaventure Historical Society