by Lee Maltenfort
There are, at this writing, only 3 multi-grave plots available for sale to the public by the Savannah Department of Cemeteries.
That doesn't mean it is, for want of a better expression, a full house. There are a number of lots that have not been filled for a variety of reasons. The most common are family lines died out, or the modern nuclear family no longer has roots in Savannah and will opt for interment where they currently live, or family member still living in Savannah have elected to use one of the newer alternatives to conventional interment.
Every often, a lot owner will offer unused space for sale. Once in a while, those offers appear in the local newspaper's classified ads. Sometimes, the owner talks among friends and associates to find a buyer and Bonaventure Historical Society gets the occasional call for assistance in selling unused interment rights.
The no vacancy sign is being posted at a time when visitor traffic to Bonaventure may be reaching an all-time high. While there are no hard capabilities to count noses, BHS volunteers and department staffers have all commented on the increased number of people in the cemetery weekdays as well as weekends.
Visitors to Bonaventure on the rise
There are more individual visitors seen and more tour registrations by an increased number of tour companies than in previous years.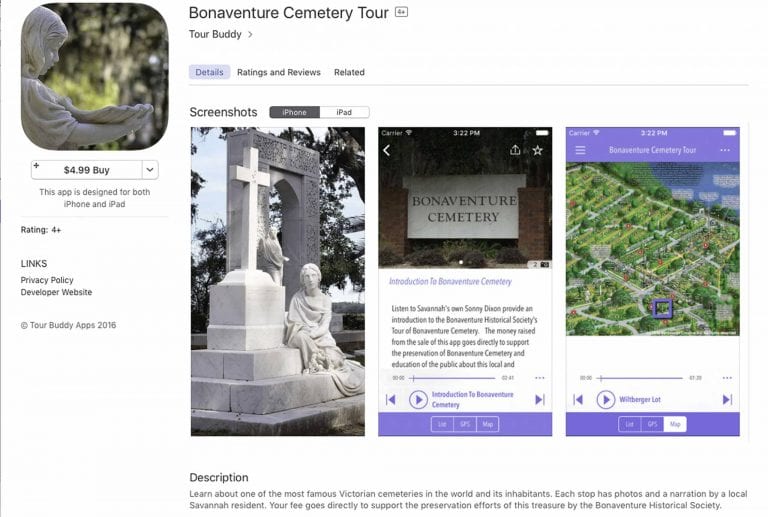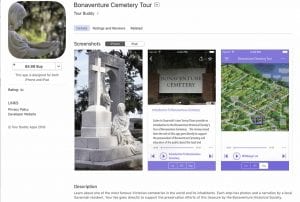 And we think a portion of the increase is due to the availability of our mobile tour app. We introduced the app after the tourist season went into its annual slump last year. But we're on a roll now. In March, 2016, 134 apps were downloaded – more than the 112 sales for January and February combined. The app sells for $4.99; we get $3.50 to replenish our restoration and conservation fund, which was just depleted to the tune of nearly $18,000 for the rebuilding of the wall surrounding the gravesite of Mayor Richard Arnold, who convinced General Sherman it was not in his best interest to burn Savannah as he had most of the other towns his army went through. Eight hundred and sixty-one dollars is not a bad start to restocking the fund. That sum is not much different that the amount we collect in donations at the door during one of the winter doldrum months.
Visitors Center volunteers watch as people sign in, acquire a Historical Society Guide and a map before seeing the sign that the app is available. And then they download it and are on their way. The first two postings in a recent Trip Advisor page began, "We downloaded the tour app and were on our way" – our words to that effect – and then extolled the virtues of the visit.
It's a well-done app, if we must say so ourselves. So, if a visit to Savannah is out of the question for a while, get the app. It's available on Google Play and Apple by searching for Bonaventure Cemetery Tour. You'll take the same tour our guides give visitors, without worrying about sand gnats, and help us out a bit.